Le jeu très décalé Age Of Zombies HD est à 0,79€ au lieu de 2,39€
Vous recherchez un jeu décalé pour votre iPad ? Avec des graphismes fun et peaufinés, Age of zombies, par les créateurs des cartons comme Fruit Ninja et Monster Dash, vous offre une aventure complètement décalée qui met en scene des zombies, les hommes des cavernes, des dinosaures… Bref un véritable environnement fun et bigoré pour les amateurs de petites perles !
Profitez vite de ce prix réduit sur Age of Zombies™ qui passe à seulement 0.99 € pour un temps limité !
Nom :
Age of Zombies™
Catégorie :
Jeux
Prix promotionnel : 0.99€
Taille :
52544Kb
Voici quelques images :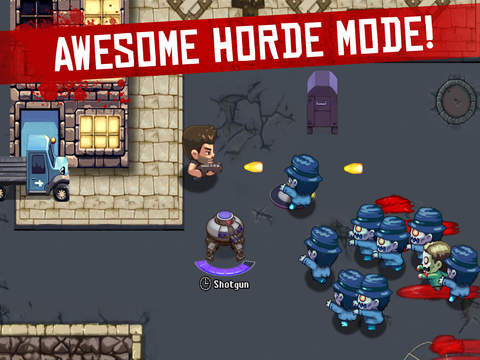 [Agrandir l'image] [ Télécharger]

[Agrandir l'image] [ Télécharger]
---
---
Description précise de l'application iPad Age of Zombies™ :
'.From Halfbrick, the creators of Fruit Ninja and Monster Dash comes their newest and biggest adventure yet! Lock and load through the history of time as a tough-as-nails commando named Barry Steakfries, who is looking for nothing more than to shoot some zombies and make it back in time for a hearty dinner! ******* "Age of Zombies is an excellent pick." -- Touch Arcade "The bite-size level play offers good pick-up-and-play value and is a ton of fun." -- 4.5/5 AppSmile "Halfbrick has yet again delivered an enjoyable and memorable gaming experience." -- IntoMobile "A time travelling, zombie shooting, wise cracking good time." -- GameZebo ******* The evil Professor Brains has sent hordes of undead to the furthest reaches of time to destroy mankind, but Steakfries won't be taking that lying down. He'll take it with a gun, a Zombie T-Rex and a whole repertoire of cheesy one-liners! Shoot up ninjas, mummies, cavemen and massive bosses with a huge variety of weapons and explosives! Bonus Survival mode to take your zombie-blasting skills to the next level, with Game Center leaderboards and achievements! Age of Zombies is the definitive action-comedy experience for the iPhone and iPad! ******* IMPORTANT NOTICE TO PARENTS This game may contain: - Promotional material for Halfbrick products and trusted business partners. - Links to external social networking sites intended for users over the age of 13. - Direct links to the internet which may open the default web browser on your device. Privacy Policy: http://www.halfbrick.com/pp Terms of Service: http://www.halfbrick.com/tos.'
---