Le jeu iPad Age of Zombies est à 0.79€ au lieu de 2.39€
Alors que la pluie de promotions vient de cesser, voici encore une petite perle à découvrir à seulement 0.79€. Age of Zombies HD est un jeu drôle qui se jouera sans prise de tête et qui vous provoquera de bons et beaux instants de détente. Noté 4.5/5 sur l'AppStore par plus de 230 joueurs français, vous êtes certains de faire le bon choix ! Un bon jeu iPad aux graphismes décalés et au gameplay original.. le tout pour seulement 0.79€ ! Foncez !
Profitez vite de ce prix réduit sur Age of Zombies™ qui passe à seulement 0.99 € pour un temps limité !
Nom :
Age of Zombies™
Catégorie :
Jeux
Prix promotionnel : 0.99€
Taille :
52544Kb
Voici quelques images :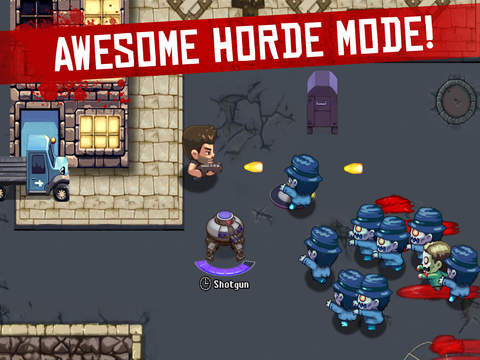 [Agrandir l'image] [ Télécharger]

[Agrandir l'image] [ Télécharger]
---
---
Description précise de l'application iPad Age of Zombies™ :
'.From Halfbrick, the creators of Fruit Ninja and Monster Dash comes their newest and biggest adventure yet! Lock and load through the history of time as a tough-as-nails commando named Barry Steakfries, who is looking for nothing more than to shoot some zombies and make it back in time for a hearty dinner! ******* "Age of Zombies is an excellent pick." -- Touch Arcade "The bite-size level play offers good pick-up-and-play value and is a ton of fun." -- 4.5/5 AppSmile "Halfbrick has yet again delivered an enjoyable and memorable gaming experience." -- IntoMobile "A time travelling, zombie shooting, wise cracking good time." -- GameZebo ******* The evil Professor Brains has sent hordes of undead to the furthest reaches of time to destroy mankind, but Steakfries won't be taking that lying down. He'll take it with a gun, a Zombie T-Rex and a whole repertoire of cheesy one-liners! Shoot up ninjas, mummies, cavemen and massive bosses with a huge variety of weapons and explosives! Bonus Survival mode to take your zombie-blasting skills to the next level, with Game Center leaderboards and achievements! Age of Zombies is the definitive action-comedy experience for the iPhone and iPad! ******* IMPORTANT NOTICE TO PARENTS This game may contain: - Promotional material for Halfbrick products and trusted business partners. - Links to external social networking sites intended for users over the age of 13. - Direct links to the internet which may open the default web browser on your device. Privacy Policy: http://www.halfbrick.com/pp Terms of Service: http://www.halfbrick.com/tos.'
---